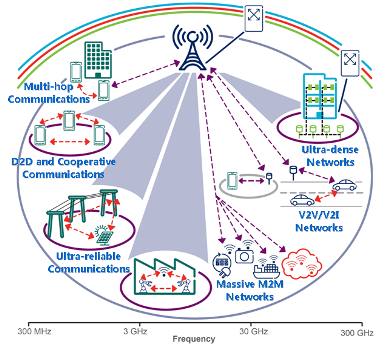 | | |
| --- | --- |
| LTE/LTE-A/5G/B5G | |
Following the rapid growth of 4G LTE/LTE-Advanced markets and the advent of 5G technologies, we are interested in research of cutting-edge 5G/B5G broadband wireless mobile systems and algorithms, with a specific focus on:

Multi-functional MIMO


Multi-cell interference coordination and management

Smart small cells and heterogeneous networks

Mobile relaying for high-speed transportation

M2M/D2D technologies and applications

Novel multi-mode wireless communications
| | |
| --- | --- |
| Visible Light Communication (VLC/LiFi) | |
VLC is considered as a promising complement to existing RF-based wireless technologies, exhibiting exciting application potential in many scenarios, such as indoor positioning, radio-sensitive medical environment, underwater communications, and so on. We endeavor to innovate in latest VLC systems and technologies, for both theoretical research and engineering practices:
High-order modulation and transmissions

MIMO/OFDM-VLC

Channel estimation and signal detection

Multi-user VLC

VLC-aided positioning (VLP)
Oversea students from all countries interested in wireless communication systems and technologies are welcome to join our research team! Enquiries are encouraged.